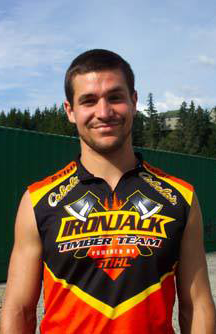 | | |
| --- | --- |
| Birthday: | December 02, 1978 |
| Hometown: | Molalla, OR |
| Height: | 6'3" |
| Weight: | 200 lbs. |
When did you first start participating in lumberjack sports?
1984

How did you get involved in lumberjack sports?
My Dad competed
Are you related to any current or former STIHL TIMBERSPORTS® Series competitors?
No
Any advice for younger competitors?
Train hard and find a good teacher
Which STIHL TIMBERSPORTS® Series pro would you most like to train with?
Any of them, given the oppurtunity
Best/strongest STIHL TIMBERSPORTS® Series discipline:
Underhand chop.
Hobbies:

Mountain biking, skate boarding, song writing and playing music.
Name three songs on your training/working out playlist?

Seven Feathers by Nahko Medicine for the People, black eyes by Radical Face, story I heard by Blind Pilot
Proudest moment in your life so far:

Being a father. before that. Probably ESPN GOG speed climbing victory in 2005
Anything else you'd like to share?

Love and truth